The Word Of The Day Is "Persistence"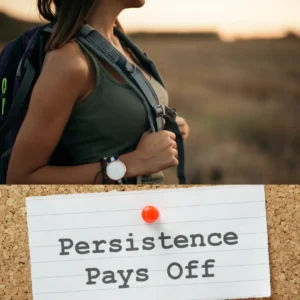 Most people see the word persistence and they quickly think of keep on trying.
When some see the word persistence they frequently think of not giving up.
But others also think of the pressures and challenges of life.
When I hear the word persistence, I picture keep going with increasing passion, despite the pressure.
I'd like to share a few thoughts with you about the word persistence when it pertains to leaving an enduring legacy , especially if you really want to get a good balance between connecting with loved ones business, and your passions:
Your energy level might decrease when challenges come.
The desire to quit can be a huge temptation.
It's important to remember, the mind is powerful.
It's the greatest supercomputer on this planet (sorry smartphones).
Which means you have the power to choose to keep rockin'.
Here's the big takeaway for you: if you want to build steps to legacy, you must develop your ability to persist.
Here's how you can make this a reality:
Write down your obstacle, so you can acknowledge it.
Develop a growth mindset.
Tackle that obstacle.
The next time you're tempted to give up, allow one more try… and then another…!
With passion, swing for the fences.
If you're super clear on your purpose, if you persist, you'll go further than you ever dreamed possible.
What do you think of when you hear the word persistence? Comment below.